Police & Law Enforcement
Magicomm have spent over eight years working with the police, and have gained enormous insight into the administrative challenges police face in dealing with the increasing levels of paperwork.
The reputation that Magicomm has established in this market has resulted in Magicomm's management being invited to speak at police events as the authority in digital pen and paper applications for the police.
Police accountability has increased the amount of office based paperwork resulting in fewer police officers on the streets. With Magicomm's applications a very large proportion of the administrative burden  placed on the police can be eradicated or alleviated.
Benefits and Applications of DP & P for The Police
Benefits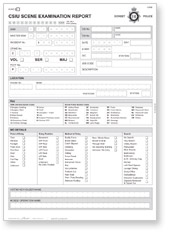 Eradicate the need to re-key data from a form
Deliver data securely from the beat to the police administration systems in seconds
Improve the criminal justice system
More police on the street, tackling crime
Automatic electronic archiving of forms
Enhanced security
Applications
Crime scene investigation
Stop and account or stop and search
Fixed penalty notices
Crime/incident/domestic violence reporting
Custody logs
Note taking
Case Study: Dorset Police CSI