Banking and Insurance
Banks and Insurance companies are burdened by and dependent upon paperwork more than any other industry sector.
There are many forms where Magicomm can provide real tangible benefits with their solutions. To take a simple credit card application form or loan agreement as examples, tremendous gains in efficiencies can be achieved resulting in increased revenues, reduced expenditure and eradication of intermediary processes.
Benefits and Applications of DP & P for Banking and Insurance
Benefits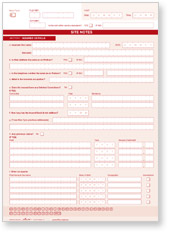 Faster form processing times
Eradication of re-keying
Automatic data archiving
Removes the need for scanning of completed forms
Full automatic data validation with integrated look-ups for instant decisioning
Applications
Insurance application forms (Life, private health, pet, etc.)
Insurance report and claims forms
Credit Card and Loan applications
FSA compliance and reporting
Face to face Customer Data Capture