Automotive
Magicomm has considerable expertise in improving the speed and efficiency of workflow within many areas of the automotive industry.
From car fleet management to production line support, the automotive industry is heavily reliant on forms processing. The manual method of transferring this data from the page into a database is tedious, time consuming and prone to errors.
Magicomm's digital pen and paper solutions can remove this problem by transferring data from forms direct to back-end data processing systems in seconds. Whether it is a vehicle inspection form or a production line checklists, these processes can be automated, saving time and money. We have experience of a wide range of applications within the automotive industry.
Benefits and Applications of DP & P for the Automotive Industry
Benefits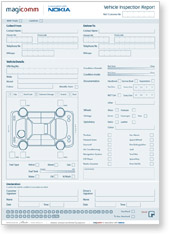 Reduces paperwork by converting completed handwritten forms into computer readable text and images where necessary
Improves and streamlines workflow, cutting out intermediary processes such as scanning.
Facilitates accurate audit trails on the forms with date and time stamps and the identity of the pen users associated with each form completion.
Re-deploy staff previously tasked with time consuming data entry.
Applications
Vehicle Service and Repair Reports
Mileage Log
Vehicle Inspection Report
Production Line Checklists